Amongst the breathtaking scenery and inviting atmosphere of Grand Rapids, Michigan, is a variety of activities that the whole family can enjoy. These six family-friendly activities have something for everybody and are only a few of the many reasons why East Grand Rapids real estate is worth considering.
Activities in Grand Rapids for the whole family
Grand Rapids Children's Museum
For a few hours of fun that stretches the family's creativity, the
Grand Rapids Children's Museum
is a site to frequent when buying East Grand Rapids homes for sale. Its rotating exhibits make each visit to the museum a new and exciting experience for the whole family, and its two floors of interactive activities provide children with interesting items and displays to play and experiment with.

This children's museum also has an array of general and fundraising family-friendly activities. These year-round events provide an opportunity to connect with the broader community and a way to spend a day outdoors or indoors while learning something new or supporting the museum's work.
Frederik Meijer Gardens & Sculpture Park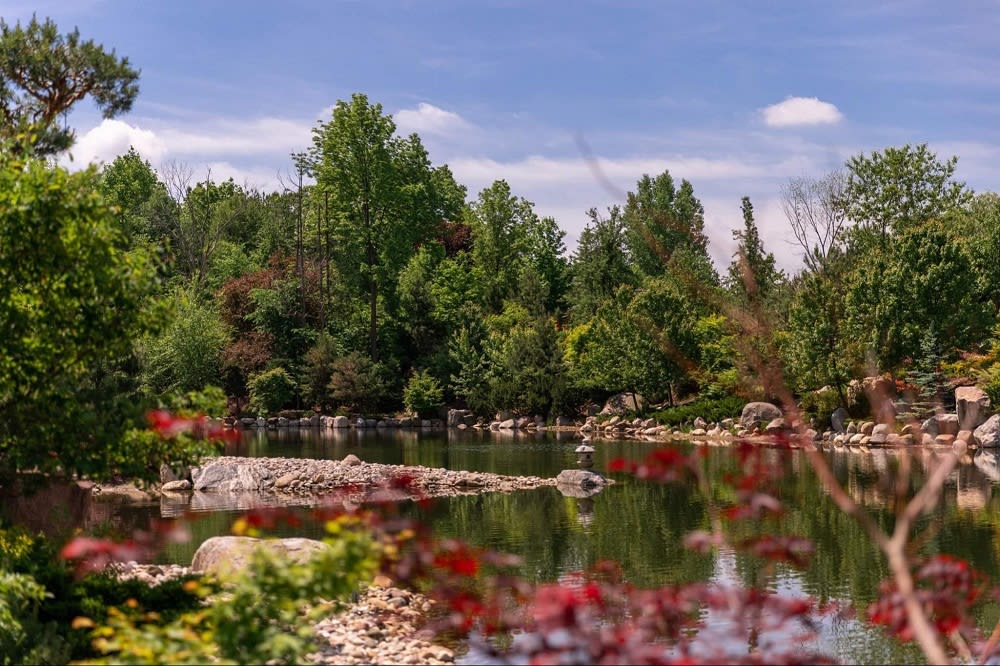 Photo courtesy of Frederik Meijer Gardens & Sculpture Park
For a day enjoying the beauty of the indoors and outdoors, the
Frederik Meijer Gardens & Sculpture Park
offers an array of art and nature that engages all visitors. Spanning 158 acres, there's plenty for the family to see and explore. Indoor highlights include a range of dynamic and multimodal art exhibits and plant displays, as well as the David and Carol Van Andel Children's Gallery with ten interactive stations. Another must-stop location for families is The Caterpillar Room, which seasonally shows the life of a monarch butterfly from caterpillar to chrysalis and hatching.

This park has a number of outdoor attractions as well, like the Lena Meijer Children's Garden. Here, families can walk among a wide variety of flora and interact with their surroundings by touching and smelling the plants' petals. If you're daunted by the large park's map of seemingly endless attractions, the Tram Tour provides a narrated experience throughout the park and is a great way to rest your feet while taking in all that it has to offer. Anyone looking at East Grand Rapids real estate will enjoy this one-of-a-kind experience.
John Ball Zoo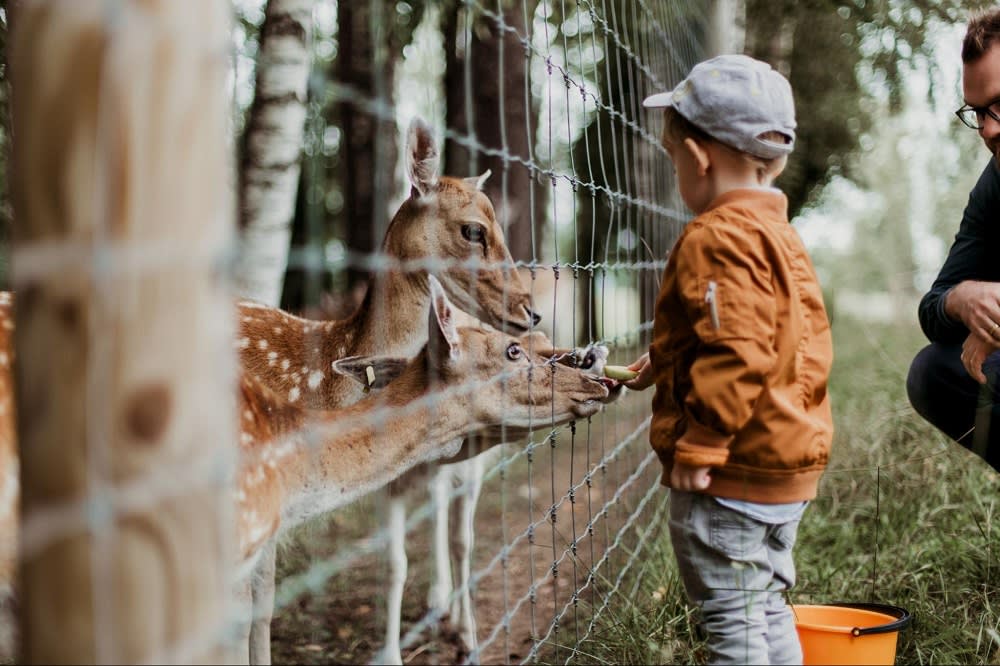 If you're seeking a fun day when visiting Grand Rapids, Michigan, look no further than the
John Ball Zoo
. This zoo has a variety of habitats to walk through and view, from the epic Crawford Tigers of the Realm to the interactive Red's Hobby Farm, where visitors can brush sheep and goats while getting up and close with other wild animals. The Idema Forest Realm is another interactive habitat with a nature walk studded with great views and play zones.

This zoo also has a number of experiences available in the summer, from zip lining to the sky rail ropes course to camel rides. And the zoo's dedication to wildlife conservation is evident in its activities available throughout, designed to educate participants while benefiting the surrounding flora and fauna. Whether on a guided tour or wandering the park freestyle, you will find that this is a place to remember for families looking at East Grand Rapids homes for sale.
Blandford Nature Center
For a different view of nature and wildlife, the
Blandford Nature Center
is an educational and fascinating experience for visitors. Guests can walk along one of the trails and admire favorite spots like the Wildlife Trail, where they can see many of the center's ambassadors. The Farm playscape is also a great way for children to interact with nature. To enjoy a view of the water and wildlife, the Meadow Pond is a serene destination to observe turtles, geese, minks, and crayfish, among many other critters.

For a more interactive experience, visitors can sign up for a wildlife care experience, where they help feed the animals and get a behind-the-scenes tour. For those interested in East Grand Rapids real estate, the Blandford Farm, with its vegetable, herb, and flower shares, is a unique way to connect with the community and the land.
TreeRunner Grand Rapids Adventure Park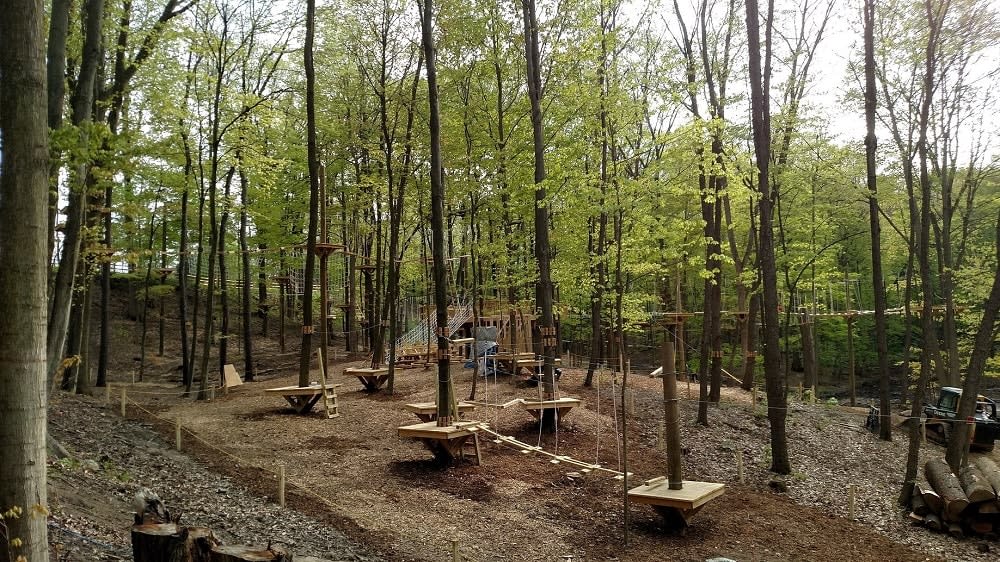 Photo courtesy of TreeRunner Grand Rapids Adventure Park
For a thrilling experience out in nature, the
TreeRunner Adventure Park
provides many treetop obstacles and courses of varying levels. Actually two parks in one, this aerial adventure park has beginner courses with fun names like Holland Hysteria and Saugatuck Sunset that feature obstacles like barrels, a lily pad bridge, and zip lines.

The intermediate and expert courses are great for older children and parents, ensuring everybody has a great time. Or, for a nighttime experience in nature, the Glow Nights create a fun atmosphere with LED lights and music. Created to challenge your mind and body, people interested in East Grand Rapids homes for sale can count on this park to provide something new with each visit.
Millennium Park
Spanning from Grand Rapids to Wyoming,
Millennium Park
is a massive urban park that boasts six miles of beach along the Grand River, 18 miles of trails, and other amenities like courts and picnic tables to ensure families have a great day in nature. The beach is the perfect place to cool off on a summer day, where visitors can jump into the 100-acre lake or play at the Mehney Splashpad, packed with a range of water features for children to enjoy.

The trails winding through this park offer a gorgeous view of nature and wildlife and are perfect to jog, walk, or bike. When it's too chilly to take a dip in the lake, the park is open to winter recreation activities on specific trails for skiing and other winter sports. Year-round, this is a great location for those searching for East Grand Rapids homes of sale.
Ready to buy East Grand Rapids real estate?
From the zoo to museums to outdoor adventures, there's plenty for Grand Rapids residents to do in this gorgeous city. Families interested in Grand Rapids can be sure to have a good time. For help finding your dream home,
contact trusted local agent Robert Antonini
to guide you through the process.
*Header photo courtesy of Grand Rapids Children's Museum