Located 40 minutes east of Lake Michigan sits Grand Rapids, the second-most populous city in all of Michigan. For many, relocating to Grand Rapids for family, work, or just a change of pace can be a great choice. Houses in Grand Rapids are beautiful, often historical, and far more reasonably priced than in many larger cities in California or New York. According to a recent study, Grand Rapids has the highest rate of
millennial homeownership
, a testament to its fair cost of living.
Grand Rapids' quality of life is also high, with so much to see and do in the city itself. There is something for everyone, from a bustling downtown area to incredible nature, lots of restaurants, stores, and so much more. If you're unsure about making a move to Grand Rapids, keep reading — this Michigan town might just surprise you.
The walkable, vibrant downtown area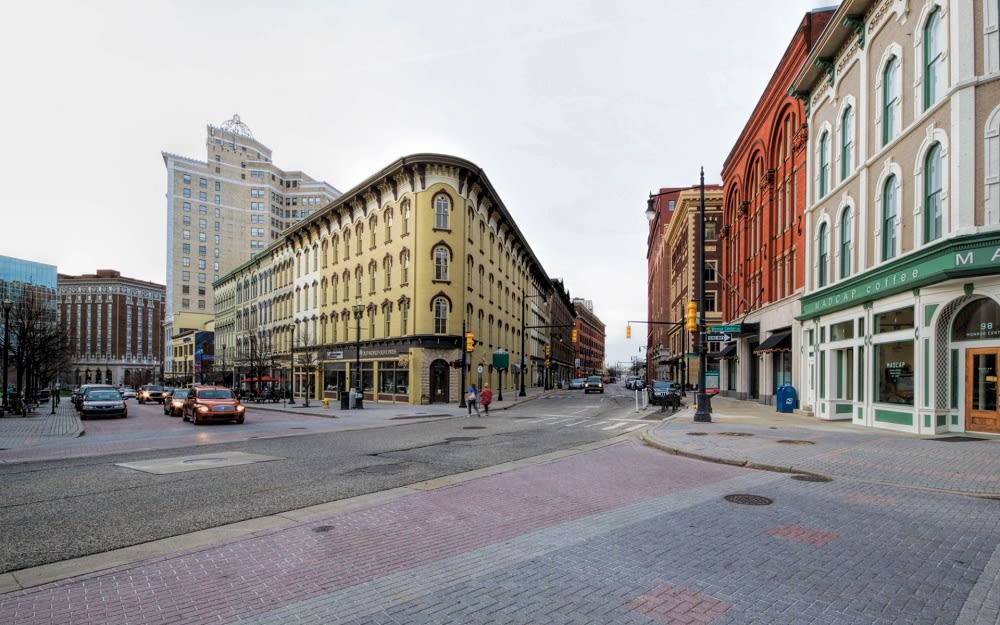 Photo Courtesy of Detroit Architectural & Travel Photographer
If you are looking at houses in Grand Rapids but are originally from a major metropolitan area, you may be pleasantly surprised by how vibrant and full of life
the downtown
neighborhood is. Grand Rapids' quality of life is high for those who live nearby, but it's a short drive for most of the area, even if you can't walk there from your front door.
Downtown streets aren't just walkable but bikeable, too, with wide sidewalks and bike lanes. Within a ten-minute walk, you can hit over 200 restaurants and shopping experiences, plus over ten hotels to choose from while looking at houses in Grand Rapids to call home.


If you love theater or live events, there is often something going on downtown, even during the colder winter months. From live jazz at GR Noir to ballet at the Peter Martin Wege Theater, you will be thrilled by the arts and culture Grand Rapids has to offer.
Four beautiful seasons
People in California or Florida love to boast about their warm winters, but if you're craving four distinct seasons, houses in Grand Rapids may be perfect for your family. Summers are warm but not too hot, with Lake Michigan providing a wonderful breeze. Why not take a trip down to the lake, have a barbecue, or go on a boat ride? Winters are cold and snowy for that classic winter wonderland feeling. Families will love the chance to go sledding or build snowmen, creating joyful memories that will last a lifetime.


Spring in Michigan often brings rain and new, blooming life everywhere. However, there's nothing like fall in Michigan, with leaves changing colors and crisp, cool nights.
Plenty to experience in spring, summer, and fall
Photo Courtesy of WZZM 13, Meijer Gardens
To truly embrace the four seasons of Michigan, spend time enjoying the vibrancy of the great outdoors. There is an incredible amount to do and see within such a short distance of natural wonders.


Meijer Gardens
are a favorite of visitors and residents alike, which extends across 158 acres of beautifully maintained masterpiece gardens. Meijer Gardens offers sculptures, art, and exhibits that regularly change to complement the season. Spring offers one of the grandest exhibits: from March 1 to April 30, over sixty species of butterflies from around the world hatch from their cocoons and soar in the Tropical Conservatory. The annual
Fred & Dorothy Fichter Butterflies Are Blooming
exhibit offers kids educational opportunities and fun activities. If you're lucky, the butterflies might even land on you!
Meijer Gardens isn't your only great option. There are over 75 parks within the city itself, and depending on where you are looking for houses in Grand Rapids, you will be able to find a local park nearby.


If you have kids, one of the best parks is
Ottawa Hills
, with two playgrounds that are universally accessible, sensory play objects, and picnic areas for a full day of enjoyment. Perhaps take a walk in the fall to watch leaves change or search for birds and butterflies in the spring. For older kids,
Westtown Commons
is an incredible skatepark servicing many houses in Grand Rapids and run entirely by a volunteer system to keep it clean and safe.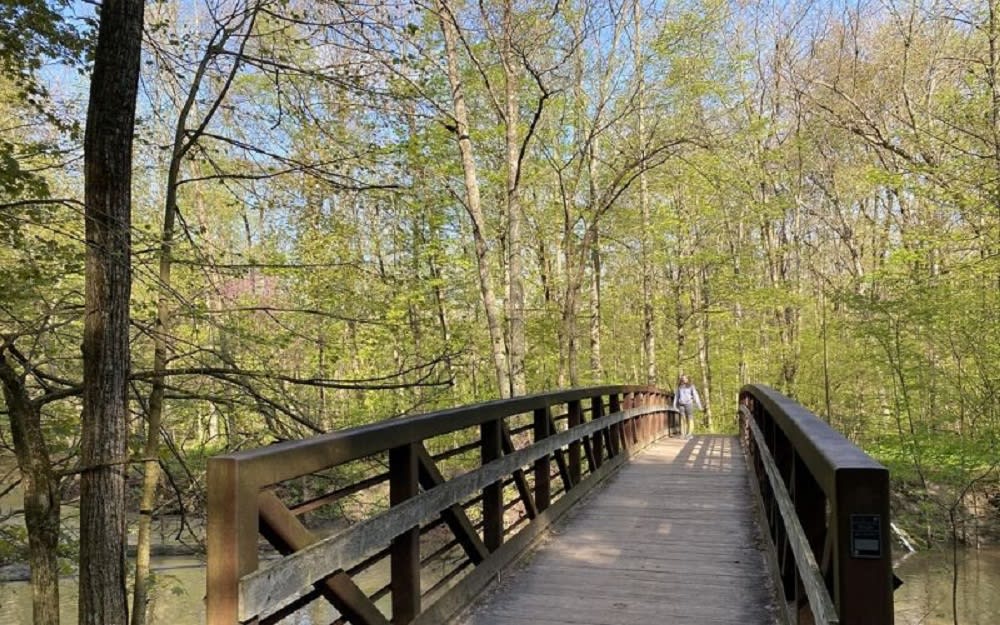 Photo Courtesy of Grand Rapids Kids, Amen Park Loop
Let's not forget the traditional hiking options, either.
Crahen Valley Park Loop
is just outside downtown Grand Rapids and is a 3.1-mile loop featuring a creek crossing and beautiful landscapes. It's a popular spot for bird watching, hiking, and walking dogs. Aman Park has some beautiful trails, like the
Amen Park Loop
, which is shorter than the Crahen Valley Park Loop but no less scenic.
Love beer? Welcome home!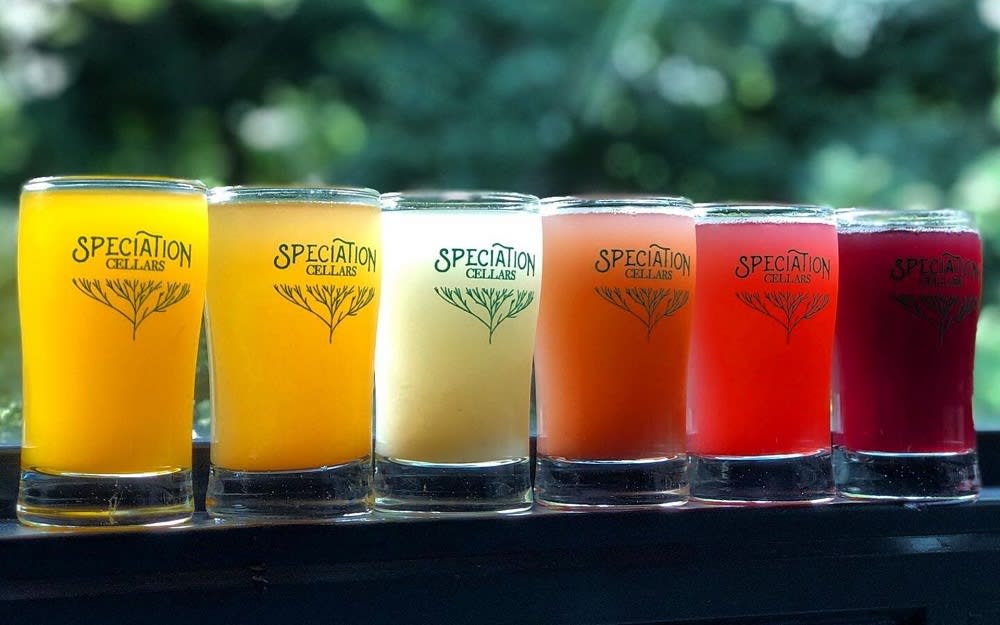 Photo Courtesy of Speciation Artisan Ales
Did you know that Grand Rapids is home to over 80 unique breweries? There's a reason it is nicknamed "Beer City USA." If you love local, craft, or unique beer, your experience in Grand Rapids just seriously spiked.

Speciation Artisan Ales
is one of the best, with a heavy focus on utilizing local goods to create their handcrafted ales. Their beers, wines, and ciders are crafted based on patterns and variations found in nature. They host regular events, including trivia nights, pop-ups, and vinyl nights for music fans. Why not sample one of Doc Flamingo's Neon Smoothies while rocking out to a Grateful Dead album?
Brewery Vibrant
, housed in an old funeral home (yes, seriously), has an incredible atmosphere and charm and loves to experiment with its brews. Brewery Vibrant commits to a philosophy of sustainability and community-oriented activity. They use locally sourced ingredients to create artistic renditions of traditional European-style beers, particularly of the French and Belgian varieties.
If you want something less "hipster" and more straightforward near houses for sale in Grand Rapids, check out
Greyline Brewing
, a small taproom with many beer selections on tap and available by the bottle. Their philosophy is to keep things simple, which translates to classic food and drink favorites, paired with a big-screen TV to catch the game with fellow community members.
Unique, small-town neighborhoods
A big selling point for many folks looking at houses in Grand Rapids is how every neighborhood feels. If you're coming from a big, built-up city, you may be used to having to battle traffic and travel to get things like local coffee or groceries. Most neighborhoods aren't going to make you deal with that at all.


Instead, living in Grand Rapids means that each neighborhood feels self-contained. You can quickly grab groceries from a local store, pick up a coffee from a roaster, and head to a locally owned restaurant for dinner, all without leaving your neighborhood. Instead of wasting 20 minutes in traffic to get to the best restaurants, most houses in Grand Rapids are only a few blocks away from many great choices.


The convenience also fosters an excellent community feeling, which is why so many people choose houses in Grand Rapids over other cities in Michigan.
Ready to move?
If you're ready to take the next step and start looking at houses in Grand Rapids, contact
Robert Antonini
, a premier real estate agent in the Grand Rapids community. No one knows Grand Rapids' quality of life better than Robert, and he can put over 30 years of experience to work for you.
Never has there been a better time to make a move and start discovering everything Grand Rapids offers. The small-town feel, big-city amenities, and fun activities year-round make it an ideal destination to call home.
Contact Robert today
to find your dream home in Grand Rapids!

*Header photo Courtesy of Grand Rapids Business Journal