Grand Rapids is the second-largest and arguably the best city in Michigan. Grand Rapids features spectacular views over the Grand River, several excellent museums, a plethora of attractions, several world-class restaurants, and many worthwhile day trips. This article will look at five of the best things to do during your time in Grand Rapids to plan a memorable itinerary and enjoy every minute in this beautiful city.
Spend a day in the Frederik Meijer Gardens & Sculpture Park
Not many people know that you can find some of the most famous sculptures in history in
Grand Rapids garden
, but it's true! The park first opened back in 1995 and has become one of the premier educational, recreational, and cultural attractions in Grand Rapids.
The park consists of 158 acres of parkland and a conservatory, waterfall, five different themed indoor gardens, four outdoor gardens, numerous walking and hiking trails, and a spectacular boardwalk. Meanwhile, some of the best works from history's most famous sculptors are on display inside the sculpture gallery, including works by Rodin, Degas, and Calder.
Explore the city's numerous educational museums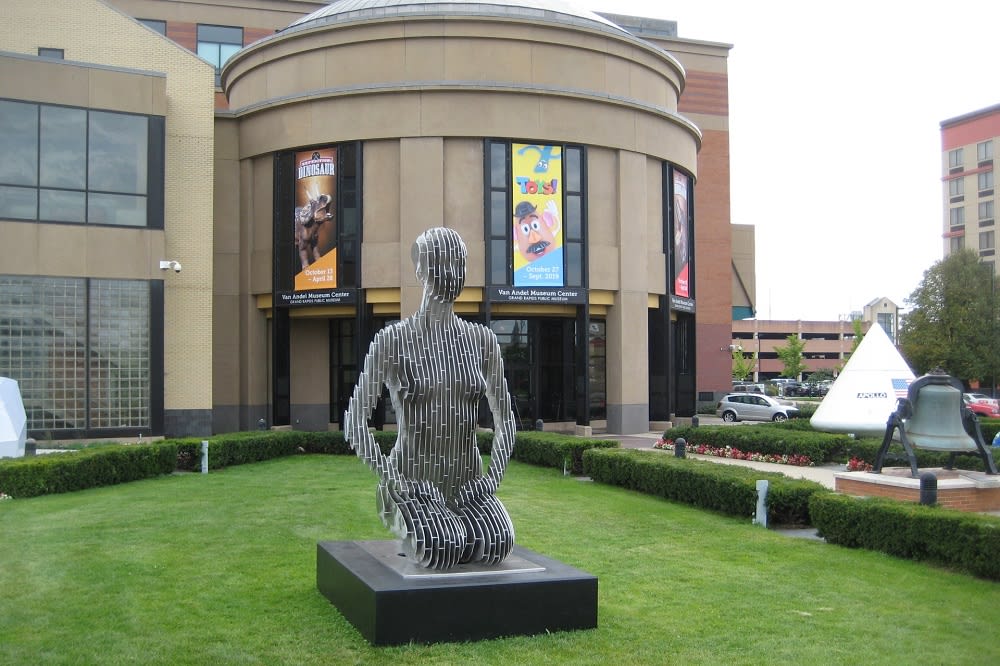 Photo courtesy of ArtPrize
Grand Rapids is home to several excellent museums that are well worth visiting. From the Grand Rapids Public Museum to the Grand Rapids Art Museum, Grand Rapids is Michigan's cultural capital. Let's briefly explore each of these museums now and go over what makes each one well worth the price of admission.

The Grand Rapids Public Museum
The Grand Rapids Public Museum
opened its doors back in 1854, and in those days, it was known as the "Lyceum of Natural History." The oldest museum in Grand Rapids, the museum features exhibits that focus on history, science, and various cultural displays.
The museum houses approximately 250,000 artifacts, from antique automobiles to fossils and much more. In addition, visitors can learn about the museum's history, which is storied and quite interesting. Overall, it's a fun and educational day out that the whole family will enjoy.

The Grand Rapids Art Museum
The splendid
Grand Rapids Art Museum
boasts an impressive 125,000 square feet, which includes around 20,000 square feet of gallery and exhibition space, and it's the only museum in the world to be certified LEED Gold for its renewable environmental design. Collections inside range from Renaissance pieces to the works of emerging artists. It's truly a museum well worth visiting, especially if you're a lover of fine art. The museum features more than 5,000 pieces in total and organizes concerts and yoga workshops.
Visit the John Ball Zoo
The
John Ball Zoo
is located approximately two miles outside downtown Grand Rapids. It features more than 1,100 animal species from all around the world. If you are not sure what to do with your kids in Grand Rapids, this may be your best bet. The zoo has many fun and educational activities for kids, including zip-lining, camel rides, and much more.
There are also a few nature preserves around Grand Rapids, where you'll be able to see some native — albeit less exotic — wildlife species in their natural habitats. Options include the Calvin College Ecosystem Preserve and the Blandford Nature Center. Each of these options makes for a fun day out in nature that your kids will surely enjoy and remember for years to come.
Take a trip to the stunning Meyer May House
The Meyer May House is a restored prairie house designed by legendary designer Frank Lloyd Wright. Wright constructed the home for the eminent clothing manufacturer Meyer May around the turn of the 20th century. The house remains exactly as it was when built more than 120 years ago, thanks to the tireless efforts of the Steelcase Company, which purchased and painstakingly reconstructed the building in 1985.


These days, visitors who enter the home can take a trip back in time as they explore the furnishings, architecture, and Victorian features that were prominent at this critical period in home design. During a tour of the house, visitors can also learn more about the life of Wright and his famous works.
Get in touch with your inner foodie
There are many exciting food options around town, including world-class restaurants, carefully recreated nostalgic venues, artisanal food trucks, gourmet street food stalls, and one exceptional farmers market. Let's briefly take a look at some of the culinary highlights on offer in Grand Rapids so that you can taste the best of what this great city has to offer.

Graydon's Crossing
Graydon's Crossing
gastropub is one of the best places to grab a bite to eat in Grand Rapids and is beloved by locals and visitors alike. The pub serves classics such as Shepherd's Pie, English-style fish and chips, and exciting ethnic flavors. Each month, the pub has a different house specialty created using only locally sourced and produced ingredients, so if you have a chance to try the monthly special, go for it. They also have more than 46 craft beers on tap, making for an entertaining night out with family and friends.

The Chop House
The Chop House recreates the spirit of the 1940s with its décor, musical stylings, and, of course, old-fashioned all-American cuisine. The interior design is truly something to behold, and the menu has something for everyone. The wine selection is also rather impressive, with over 280 bottles in stock at any given time. If you want to enjoy a nostalgic night out with great food and fine wine, check out the
Chop House
in downtown Grand Rapids.

The Pump House
The Pump House is another restaurant that serves up a double dose of nostalgia. It's a 1940s-inspired soda shop meticulously recreated down to the smallest details. Although they have the best old-fashioned soda in town, the real highlight of any trip to the Pump House is the dessert menu, which includes favorites such as sorbet, homemade yogurt, various puddings, custards, and the most phenomenal gelato in Michigan.

The Fulton Street Farmers Market
On Saturdays in Grand Rapids, everybody is out and about at the Fulton Street Farmers Market. The market first opened to the public in 1922 and has been in continuous operation ever since. On average, around 200 farmers turn out to sell their fruits and vegetables, which are all locally sourced and produced.


The market itself is a roofed outdoor market that features a few tiny indoor shops and is the best place to buy all of your dairy, fruits, vegetables, spices, teas, and just about anything else you can think of. Try to arrive early, as the market can get pretty crowded later in the day as people pile in to sample artisan cheeses and buy their groceries for the week. Plenty of food trucks line the street, so if you happen to be hungry, worry not! You'll be spoiled for choice.
Looking to buy in Grand Rapids?
Grand Rapids is the second-largest city in Michigan, but it's the state's cultural hub and features many of the best amenities usually reserved for much larger cities. Grand Rapids has something for everyone and activities for the whole family. From world-class museums like the Grand Rapids Public Museum and the Grand Rapids Art Museum to wildlife sanctuaries such as the John Ball Zoo, Calvin College Ecosystem Preserve, and Blandford Nature Center, Grand Rapids is a city that you won't get bored of any time soon.


In addition to the cultural activities in Grand Rapids, there are also many exquisite restaurants, dessert shops, fine dining options, craft food trucks, and other culinary delights awaiting your discovery. Don't forget to make a Saturday pilgrimage out to the Fulton Street Farmers Market. It's truly the beating heart of Grand Rapids. No matter what you decide to do, one thing is for sure — you'll have a blast during your time in Grand Rapids. It's impossible not to!


Robert Antonini is a realtor specializing in East Grand Rapids real estate. If you're looking at homes for sale in Grand Rapids or planning to sell your property in the Grand Rapids area, contact the team at Robert Antonini real estate today.